Nama kumpulan K-Pop terkenal iaitu BTS sudah tidak perlu diperkenalkan lagi, apabila bercakap sahaja mengenai mereka, pasti ramai yang teruja dan tidak keruan!
Bagi yang mengikuti perkembangan semasa BTS, pasti tahu bahawa rangkaian restoran makanan segera yang terbesar di dunia, iaitu Mcdonalds telah mengumumkan kolaborasi dengan kumpulan K-Pop terkenal itu dengan memperkenalkan menu kombo terbaharu yang diberi nama "BTS Meal" pada 26 Mei 2021 di seluruh dunia.
Nampaknya seperti yang dijangka, rakyat Malaysia terutamanya peminat BTS tidak ketinggalan untuk mendapatkan menu kombo BTS Meal tersebut dari seawal jam 8 pagi!
Lihat sahaja respon dan reaksi mereka yang sudah mendapatkan BTS Meal ini :
#BTSMeal I forced my dad to drive me to mcd ? hehe he liked the Cajun sauce @McDMalaysia pic.twitter.com/qtgbcUARqi

— cranberrycreamcheese (@cutthecrapg) May 26, 2021
My BTS meal is here!??????? #malaysiabtsmeal @BTS_twt pic.twitter.com/btctouAi7a

— Raja Zu (@RajaZuleikha) May 26, 2021
Nasib MCD #BTSMeal dapat, sebab awal pagi dah advance order. Haish takpelah tak dapat vaksin dapat mcd pun kenyang pic.twitter.com/67smAsy1xl

— ?????? (@ftnnralia_) May 26, 2021
Done my #BTSMeal !
Thankyou @McDMalaysia sebab well prepared with SOPs semua. Tenang-tenang je beli tadi ☺️@BTS_twt #보라해 ?? pic.twitter.com/VmiWEXeRHN

— IRAH⁷ (@irah__syahirah) May 26, 2021
4 Jam tunggu mcd delivery…masih Q lagi… Aku guna bungkusit…terus dapat. Alhamdulillah. Siap pesan dkt abg rider. Bang, bawak #BTSMeal sy baik2 ya… #BTSxMcDonalds #BTSMealmalaysia https://t.co/PSgvKabrBp pic.twitter.com/HFB2Bhg3Pf

— SZA ???? (@YaiAmran) May 26, 2021
Wah struggle juga ya nak dapatkan set BTS Meal ni sampai trending di Twitter dan jammed terus website Mcdonalds. Dasyat ye penangan BTS ni!
Selain itu, pengacara Hani Fadzil dan personaliti media sosial terkenal iaitu Khairul Aming juga tidak terlepas mendapatkan BTS Meal!
Mcd kat rumah aku best sebab tak ada orang. Siap boleh selfie dengan akak akak mcd walaupun tak mandi lagi ? pic.twitter.com/tvOHywSUc6

— Khairulaming (@khairulaming) May 26, 2021
View this post on Instagram
Oh ya, bagi yang tertanya-tanya apakah makanan yang korang akan dapat jika memesan BTS meal ni, ia adalah McNuggets Ayam 10 keping, kentang goreng sederhana, Coca-Cola sederhana, sos cili manis dan sos cajun yang diilhamkan oleh resipi popular dari McDonald's Korea Selatan dan dijual pada harga bawah RM20 je.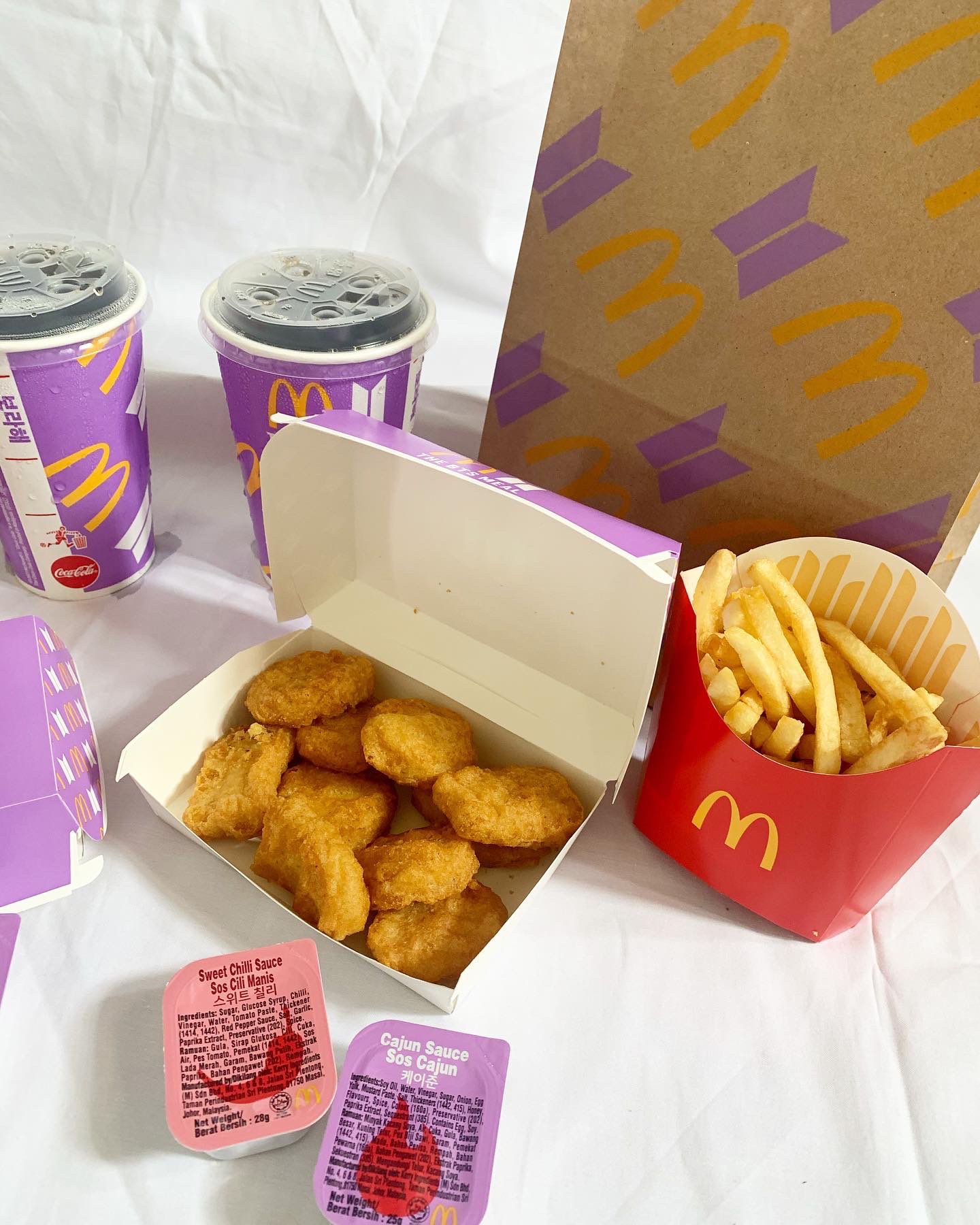 Sumber gambar : Hani Fadzil
Kalau dah cuba, jangan lupa tag kami di Hot FM, nak tahu juga sedap ke tidak kan!
Dan jangan lupa, sambil-sambil nak membeli set BTS Meal tu, ingat juga untuk sentiasa mematuhi SOP yang ditetapkan oleh MKN okay!
Sumber : Twitter