Tular di laman sosial baru-baru ini mengenai satu video lama yang dipetik dari laman Youtube Budiey Channel, dimuat naik kembali oleh seorang pengguna di Twitter mengenai pelakon jelita kacukan India dan Scotland, Amelia Henderson menjelaskan kekesalan, berikutan dirinya dikatakan seolah-olah tidak layak memenangi Anugerah Asia Model Awards Model Star yang diterimanya tahun lalu, disebabkan dia bukan berbangsa Melayu.
Terpanggil untuk menjelaskan apa yang terbuku di hatinya mengenai tanggapan dan komen-komen negatif yang diterima, Amelia berkongsi mengenai pendiriannya tentang perkara tersebut.
"Kalau nak nampk bodoh public silakan." – @ameliath beb!! You too sharp ! HAHAHA tringt vid ni after read all the hatred/perverts 🤮 comments kt ig amelia. Make sure jgn bgi dorg jumpa you beb, tkut dorg fallin in love dgn you je! 👻 pic.twitter.com/wWyeRHUFB7

— Ⲋ𐌸𐌰ꡕ𐍊ꡕ𐍊 🍀 (@specnsmth) October 11, 2020
"You're not malay, The Malaysian people should stand up to foreigners like you"

"You may be pretty, but you don't represent malay people"
Melihat dari sudut positif, Amelia berkata, dia tidak kecil hati dengan apa yang dilontarkan oleh individu itu, akan tetapi dia kesal kerana komen seperti itu datang daripada negaranya sendiri.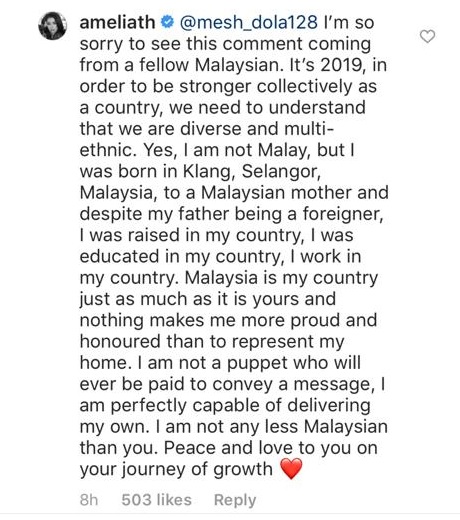 "I'm so sorry to see this comment coming from a fellow Malaysian. It's 2019, in order to be stronger collectively as a country, we need to understand that we are diverse and multi-ethnic"

"Yes I am not Malay, But I was born in Klang, Selangor, Malaysia, to a Malaysian mother"
Mengulas lanjut, Amelia berkata sebagai rakyat Malaysia yang berbilang kaum, sepatutnya kita perlu lebih memahami bahawa kita datang daripada pelbagai etnik, tidak perlu ada unsur kebencian.
Sebagai seorang individu, pelakon kacukan itu berkata dia juga mempunyai perasaan sama seperti individu lain.
"Kalau you nak cakap apa-apa pun pasal i, I have family who loves me, I have friends who I love, love me, I ada manager yang boleh sokong I, my life is happy"
Tidak mahu terlalu memikirkan andaian negatif itu, Amelia memberitahu bahawa dia mempunyai keluarga dan rakan-rakan yang sentiasa menyokongnya malah dia bahagia dengan kehidupannya sekarang.
Amelia juga menganggap kata-kata netizen itu seperti mencerminkan bahawa mereka mengecam kerana bermusuhan dengan masalah diri sendiri.
"So ini macam reflect you sendiri ada problem dengan your life, It's not my fault yang korang penuh dengan hatred ni"

"Kalau nak nampak bodoh public, silakan"
Amelia juga meminta netizen yang kurang senang dengan dirinya untuk 'block' daripada terus melemparkan kata-kata negatif.
"Kalau you betul-betul benci tengok muka I kat timeline, tolonglah block I,"
Mengenali Amelia, dia merupakan seorang wanita yang berdiri atas pendirian sendiri dan matang apabila membuat keputusan.
Jadi guys, tidak kira bangsa dan agama, kita harus sama-sama menghormati antara satu sama lain okay?