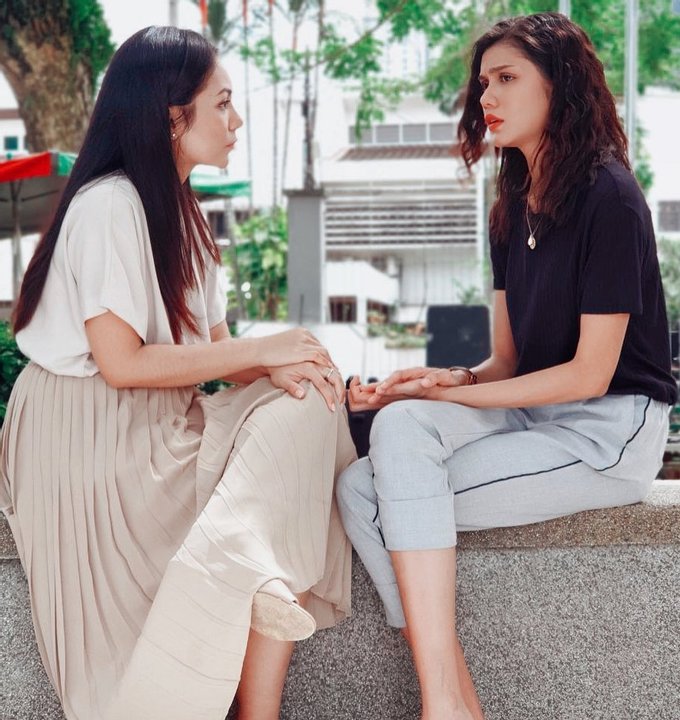 Jika melihat pada gambar di atas, pasti rata-rata boleh menamakan drama yang sedang hangat ditayangkan serta diperkatakan oleh orang ramai ketika ini.
Drama yang menggandingkan dua pelakon hebat antara Nad Zainal dan Mimi Lana itu bagaimanapun hampir melabuhkan tirainya pada 12 November.
Mengisahkan tentang dua sahabat yang akrab, watak Mona dan Farah yang dibawa oleh kedua-dua pelakon menerusi Hati Yang Tersakiti cukup memberi kesan yang mendalam terhadap penonton selain aktres itu sendiri.
Bukan sahaja rapat menerusi drama yang dilakonkan, malah mereka turut dilihat saling bertukar pendapat di ruangan komen masing-masing menunjukkan turut akrab dalam realiti.
Terpanggil untuk menulis satu appreciation post, Mimi Lana memuat naik satu video berserta kapsyen melalui laman Instagram miliknya tentang kehebatan Nad Zainal:-
"Nanad adalah pelakon wanita paling bagus yang saya pernah bekerjasama. Lakonan and imagination dia memang next level." tulis Mimi
Menurut Mimi, beliau sering terkejut dengan setiap reaksi yang diberi dalam setiap babak.
  "Natural tu jangan cakap lah! Lepas tu tak lokek ilmu, tak pernah pandang rendah dengan kerja orang lain, always willing nak perform sama sama."
Mimi juga sempat menyatakan bahawa baginya, Nad adalah pelakon yang paling layak memegang anugerah pelakon Wanita terbaik di Malaysia kerana semua watak yang dilakonkan penuh realistic.
"Saya sangat rasa rendah diri bila dapat tahu saya akan buat project dengan dia. You're the best nanad!"
Di akhir kapsyen, Mimi mengakui Hati Yang Tersakiti adalah antara project yang paling indah buat dirinya.
Baca artikel berkenaan: "Saya Korban Segalanya, Sekejap Rambut Pendek, Sekejap Panjang," Mimi Lana Luah Cabaran Sebagai Anak Seni
Sumber daripada: Instagram Miss Mimi Lana